2006 Annual Scholarship Awards
Co-sponsored by the American Film Institute,
the Association for Computing Machinery, and
ACM Computers in Entertainment

with Special Guest Quincy Jones
and Keynote Speaker Dr. Alan Kay
Host and Editor-in-Chief Newton Lee
Photographer John Michael Ferrari
Nov 4th, 2006
Please be patient.
Make take up to to a minute for the Quicktime movie with music to upload.
Go to WWW.QUICKTIME.COMfor free quicktime download.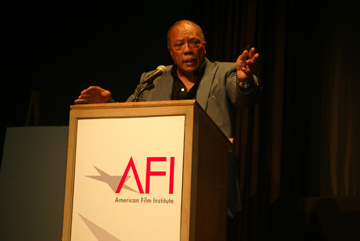 Quincy Jones

The 2006 ACM Computers in Entertainment
$15,000 Scholarship Winners:
Omer Rashid and Will Bamford of Lancaster University (UK),
and Jurgen Scheible of the University of Art and Design (Finland).
The title of the winning paper:
"PAC-LAN: Mixed reality gaming with RFID enabled mobile phones.

Please contact Newton Lee
at the Institute for Education, Research, and Scholarships directly at
www.ifers.org


To ImagesByFerrari.com Homepage